Avezano Product Manual
1. Introduce
Whether you are just starting out as a photography enthusiast or a professional photographer who already has a certain reserve of professional knowledge, you need a lot of practice, creativity, and novel ideas on the way to photography. Photography is a process of continuous experimentation, continuous learning, and continuous improvement. Some people may spend decades of time and energy mastering the art of photography, exploring their own unique shooting skills, conceptual concepts, and light and shadow processing skills in continuous shooting, and finally forming their own shooting style. To be an excellent photographer, sometimes it is inseparable from a photography background, as a professional background cloth maker, in this article, we will discuss the main functions of photo and video application backgrounds, and provide you with a clear and practical guide. The article is divided into five sections, showing you step-by-step the material, size, type, setup, and care of your backdrop. By providing basic instructions to get you started, combined with background management solutions, you will quickly realize the advantages of each background and decide to order the one that is best for you and your clients.
Let's first understand the common portrait photography background
● Christmas photography background
Christmas is a beautiful and imaginative holiday. The red Christmas flowers and the Christmas tree full of gifts are romantic and beautiful. Our Christmas backgrounds can feel that beauty.
● Birthday photography background
Nice balloon arrangement to make it look great! Celebrate your 1st birthday with Cake Crush and capture the beautiful moments.
● Easter photography background
Our Easter backgrounds are a great solution for any photographer looking to have an Easter mini-session! These backdrops are also perfect for any event, birthday party, or photo booth where you want to add a little spring freshness to their event, not only because of their beauty and the variety they offer.
● Valentine's Day photography background
It is important to find a beautiful Valentine's Day background, which saves a lot of trouble and is also very beautiful to shoot.
● Solid color photography background
If you want to shoot family portraits and other types of simple portraits, a solid color background other than black and white is also a good choice. Neutral background colors like gray or sepia are simple, versatile, and easy to color-correct in post-processing.
● Textured photographic background
A photographic background with textured elements can add movement to a photo shoot. For example, shooting in front of a muslin photography backdrop can give your portrait photos an interesting texture without overly distracting the viewer.
2. Background material
There are many kinds of background materials. Currently, We only sell one material, which is cotton fabric. Cotton fabric is one of the synthetic fibers used in photographic backgrounds, the most common type of fabric is made of polyester. This material can be easily folded to make the backdrop portable. The sturdy, wrinkle-resistant background is better for printing realistic images on top. Cotton fabric backgrounds are available in a wide selection of patterns and designs. You can even customize the microfiber background to your specifications! That's why the collection of cotton fabric backdrops always offers fun options. The cotton fabric background has more styles and can be used on more occasions. It's soft, durable, and washable and can be easily cleaned and stored. Perfect for photographic portraits, events, product shoots, video production, and more.
3. Pick a size
1. When choosing the size of the backdrop, first figure out the size of your studio. Backdrops should be the right size for your studio and look functional as well as aesthetically pleasing. You need to measure 3 important factors in your studio. Depth, width, and most importantly, ceiling height. Accurately measuring the size of these three factors will provide you with the main and necessary reference when choosing the size of the background wall. Here, we use the dimensions of the most common occasions (such as full-body shots) as a baseline.
Please note: The following size reference is the most cost-effective suggestion. If your studio/space is big enough, you can choose any
The size of the background wall you want.
(1) 3ftx5ft/5ftx3ft, this is the smallest size, which can be used for newborns or children, pets, etc.
(2) 5x5ft for children, headshots, and 3/4 length portraits; this is also ideal for photographers working in tight spaces or small home studios.
(3) 5x7ft/7x5ft, ideal for headshots and non-full-length portraits of children; 7ft(height) for standing, 5ft(height) for non-standing.
(4) 6.5x10ft/10x6.5ft, this size is suitable for single body portraits and other occasions we mentioned above, but still not the best size.
(5) 8x8ft, it can definitely do what the small size can do, and it can also provide extra room for your model to move, and provide more space for post-editing of photos.
(6) 8x10ft/10x8ft, this size can be used for most occasions, from child portraits to family portraits. This size backdrop is versatile for 2-4 people.
(7) 10x10ft, this size is ideal for most full-length and group portraits. It can be found in professional photography studios.
(8) 10x12ft/12x10ft, large size, can be used.
4. Customized service
Custom backdrops always imply individuality and requirements. If you are fairly clear about your meeting and what you want to convey through your photos, you can customize the background. Your designs and requirements will always be realized by professional backdrop designers. They can provide professional advice and practical support for your custom designs. You can choose the size you want on our customized background production page, upload your requirements and pictures to us, and ensure that the pixels of the picture must be greater than or equal to 300DPI.
If the picture is too large to be uploaded, you can directly send the picture to us via email at support@avezanobackdrop.com, and we will handle it for you as soon as possible. No matter what kind of background you want, a custom background will help you achieve it!
5. Background stand
The background bracket can help us take better pictures. This kind is common in life. It can be supported by a triangle, and the three sides are mutually restrained without deformation. Easy to store.
There is also a T-bracket, which takes up little space and supports stable
If you want a good-quality photography backdrop, we recommend aluminum alloy.
•     The aluminum alloy bracket uses a special galvanized carbon steel aluminum alloy guide rail, which can be quickly installed at any position, improves the pre-installation rate, and ensures safety and speed.
•     The materials used are high-strength anodized aluminum alloy and stainless steel, which greatly increases the high durability of the equipment and ensures the quality of the photovoltaic support.
•     The aluminum alloy photovoltaic support system has the advantages of anti-corrosion, a beautiful appearance, easy installation, and no rust.
6. Background Cleaning and Preservation
1. How to clean the background
Backdrops may not last long without the right maintenance regimen. Therefore, knowing how to store and clean them properly is important. All backdrops are machine washable. Of course, you can also choose to wash by hand.
As the last part of understanding backdrops, this section will help you properly wash and store different types of backdrops.
(The following instructions are general standards and should be used as a guide only. You should still follow the care instructions for your specific product).
●Store in a clean and dry place
Check the storage location for moisture problems. Backdrops stored and used in humid environments will absorb moisture, which can cause the material to
Wrinkles and bacterial growth can completely damage the surface. Also, sunlight can fade the backdrop. You also need to check the room temperature, do not place the fabric
The background cloth is exposed to any external force.
2. Clean your backdrop regularly
Regular cleaning is really important. Otherwise, frequent use without timely cleaning will cause stubborn stains that are difficult to remove. However, regular cleaning must be done. Not meant to be overly clean. An incorrect cleaning regimen that violates specific care instructions will ruin your backdrop.
● Use special tape or clips.
Do not use ordinary tape or clips to hang or secure your backdrop. They may cause damage to your backdrop.
● Avoid stepping on it with your shoes
Unless asked to do so, you should try to avoid walking on the background wall with your shoes (except models). If necessary, we recommend making reusable removable shoe covers or purchasing ones that match your backdrop Rubber floor mats.
●Place the backdrop in a dryer on low heat.
Some types of fabric backdrops can be dried in the dryer according to the care label. Turn on the dryer to low heat and follow the background cloth care.
The label indicates which setting to choose. Let the curtains dry for about 20 to 30 minutes.
●Use a low-temperature iron or steamer
Pay attention to the temperature of your steam iron. The heat of the iron may damage the backdrop. If necessary, you can choose a [hand-held steamer
Steam machine, use steam to deal with wrinkles, or slowly iron the background cloth with cold iron, the time should not be too long.
●Keep the room ventilated.
Whether you are using the backdrop in a studio or on-site, we recommend that you open ventilation or windows before working to prevent dust and mold growth. Not only is this good for your health, but it also keeps the background clean and uncluttered.
3. How to save the background
•     Folded and stored in a box or cabinet, but there may be some creases in this storage method for a long time, and it will be used next time. You need to use an iron to iron at low temperatures to remove creases;
•     Roll the background on a stick for storage. This storage method can effectively avoid the occurrence of slight creases when used again, but for larger background cloths, it is not easy to find a suitable storage tool such as a stick, and it is not very convenient to carry.
7. Rubber floor mat
1. Advantage
1. The rubber floor mat has high elasticity. The elastic index of the rubber floor mat is high, and it can quickly restore to its normal state after being stepped on by gravity. It is used to take photos of newborns, children, pets, and products. Floor mats can be a great addition when you need to blend your backdrop smoothly with the floor.
2. Environmental protection and health. As a kind of natural wood, the rubber tree has powerful functions. The wood itself can be used to make boards, and the juice can also be collected to make rubber products. Rubber floor mats are one of them.
3. Floor mats are usually digitally printed to make the pattern with high definition and authenticity. Easy to carry and store. Dimensions usually range from 4x5 feet (1.2 x1.5 meters) to 5x8 feet (1.5x2.5 meters).
2. Disadvantages
1. Easily dissolved by high temperature
Rubber floor mats are soft and plastic, but if they are exposed to high temperatures for a long time, their structure may be affected, so they must be stored in a cool place.
2. Expensive
Because the raw materials of rubber mats are relatively rare, they are all imported from the Philippines, and the production cost is high, so the price is relatively expensive。
6. Newborn Wraps & Props
We usually take a lot of newborn photos and they come in this package style.
This shape is from swaddling. It soothes babies, relieves gas, and prevents sleepy newborns from waking up with the Moro reflex. Memories from the womb, memories from birth.
Swaddling is meant to simulate what a baby would look like inside the mother; why would it simulate the feel of the mother's womb? Because as early as 1986, American psychologists discovered that newborns can remember everything they heard and perceived in their mother's womb. So shooting packaging can not only highlight the cuteness of the baby but also make the baby feel safe.
The general packaging forms are full package and half package. Although there are different methods, the steps are roughly the same.
1. All inclusive
First press one end of the cloth under the baby, and then arrange the baby's shape, let the baby's hands close in front of the chest, and the feet curl up as much as possible, smooth the lines of the cloth, and put the rest of the cloth into the baby's body compacted. Newborn photo packaging diagram.
2. Show hands and feet
The basic technique is the same as the full pack, but the baby's head and feet are excluded. It is also necessary to take the hand out of the package and adjust the shape of the foot.
3. Half pack
Starting from the baby's right shoulder, wrap it twice along the body. The upper arm and thigh are hidden in the cloth, and the lower arm and calf are naturally exposed. Pay attention to controlling your baby's feet and don't let him kick.
4. Shaping
First, wrap the baby's legs with cloth, then wrap the shoulders along the baby's back, wrap the tail in front, and naturally cover the lower body. The focus is on the shape of the other parts of the package, which should be smooth and natural.
A hand-drawn illustration of a newborn photo package.
a. After spreading the background cloth on the bean bag or other shooting surface, unfold the cloth to wrap the baby and spread it horizontally
b. Gently place the baby in the wrap, and use your hands to push his legs slightly towards the abdomen to help him stay curled up.
c. Turn the wrapping cloth on the right side around the baby's body twice, and wrap the same wrapping cloth on the left side, with the end of the wrapping cloth under the baby's body.
d. Arrange the shape of the wrapping cloth, and expose the baby's hands and feet according to the shooting needs.
Have to be aware of is:
When swaddling, wrap around the baby's neck, not the head. The limbs should be as close as possible, and the tighter the wrapping, the better, so that the baby will feel more secure and the shape will be better.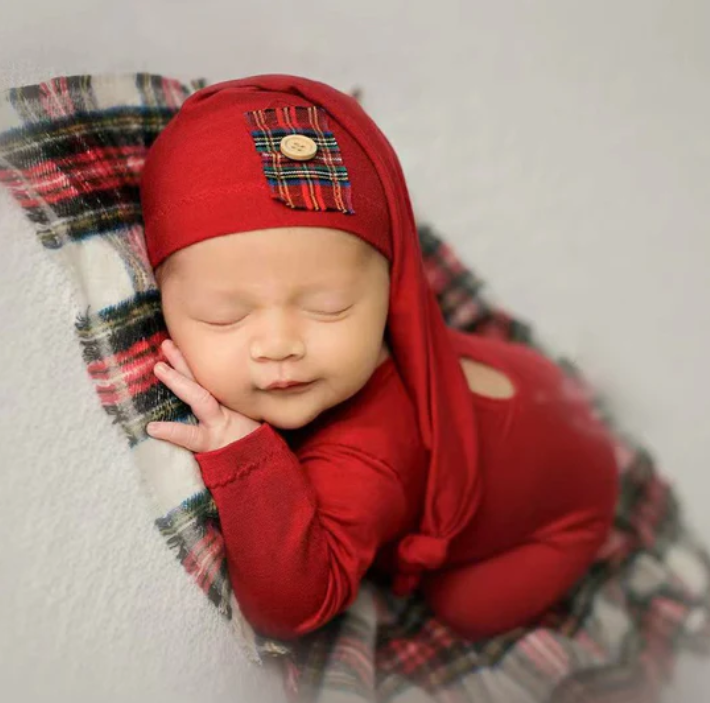 Remember to wash the baby's underwear after we get the goods. It is best to wash it by hand. After washing, try to put it on the baby. Remember to take some hard headwear on your body carefully, and take it off in time when taking pictures.